Disney Wish
Disney Wish
In June 2022, Disney Cruise Line's newest ship, the Disney Wish, made her grand debut and officially set sail. Haley & Laura, Yankee Trails' resident Disney fans, were elated to be invited on the Disney Wish Enchanted Showcase Cruise just days after she was christened. Check out all of their takeaways below (warning: it will make you want to go on a Disney Cruise!)
We arrived at Port Canaveral on a Sunday afternoon in July to depart on a three-night, four-day cruise with a stop at Castaway Cay, Disney's private island. When we boarded this ship, our names were announced and we joined a magical party in the Grand Hall where Princess Tiana and Prince Naveen were greeting us from the Grand Hall Stage. There was a short show that lasted about 3 minutes that warmly welcomed us onto the ship, and then we were off finding our stateroom.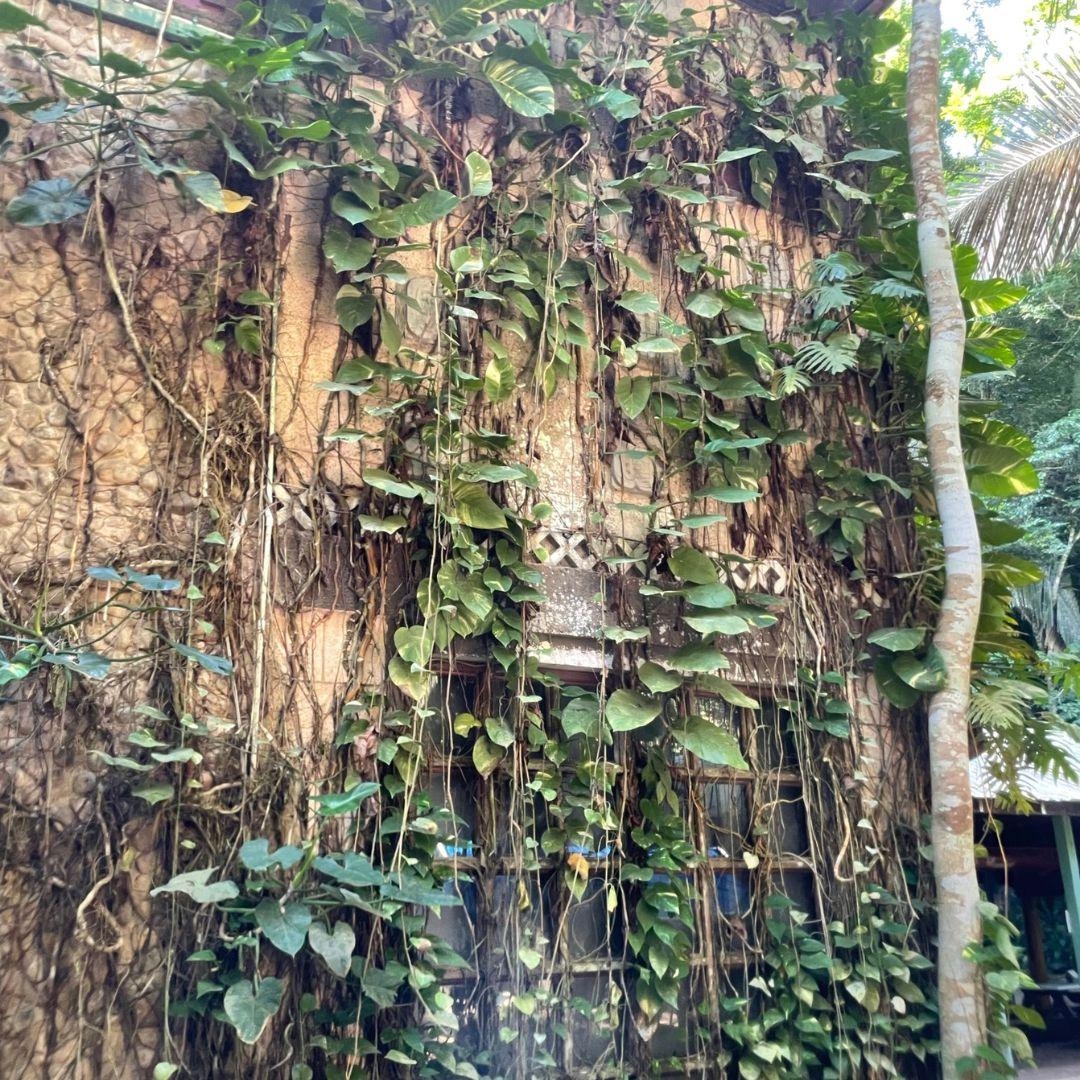 Our stateroom was located on floor 10, and was a deluxe oceanview stateroom with a verandah. We loved this room- the design was well thought out and there was more than enough storage for two girls who tend to overpack (we like to have options, okay?) There was plenty of closet space on one side of the doorway, and on the other there were two washrooms. One room had the toilet and a sink in it, while the other had the shower and another sink in it. This was great when it came time to get ready for the day and for dinner in the evening.
The room had a queen size bed with the fluffiest bedding, and the convertible sofa turned into a twin size bed for even more sleeping space. Should you need another bed, another twin size bed can pull down from the ceiling that your stateroom attendant will get ready for you each night. There was a lit vanity with more drawer space and storage across from the couch, and the verandah was through the glass sliding door. While the two of us had more than enough room in this stateroom, there was still plenty of room where three or four people would have been able to manage if needed.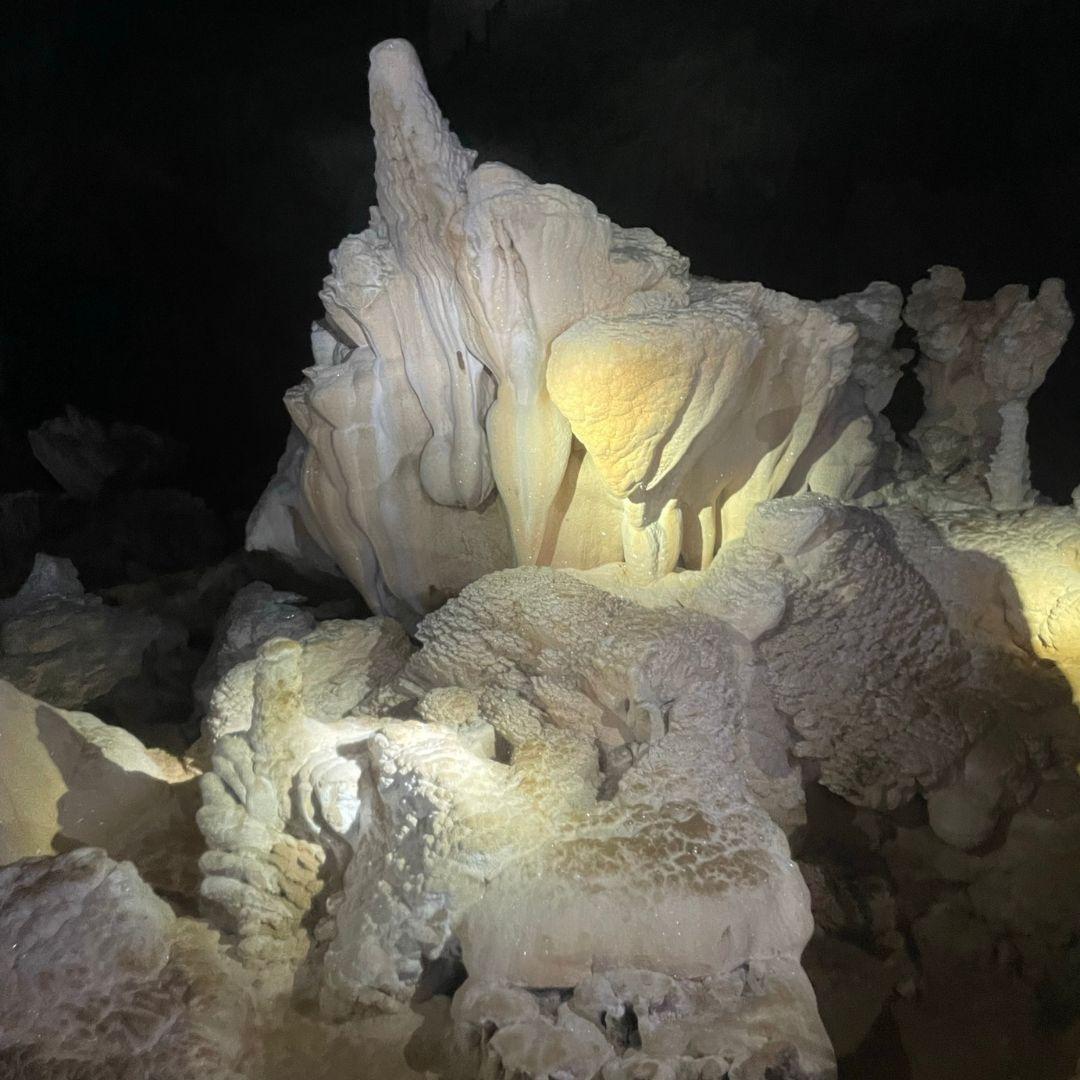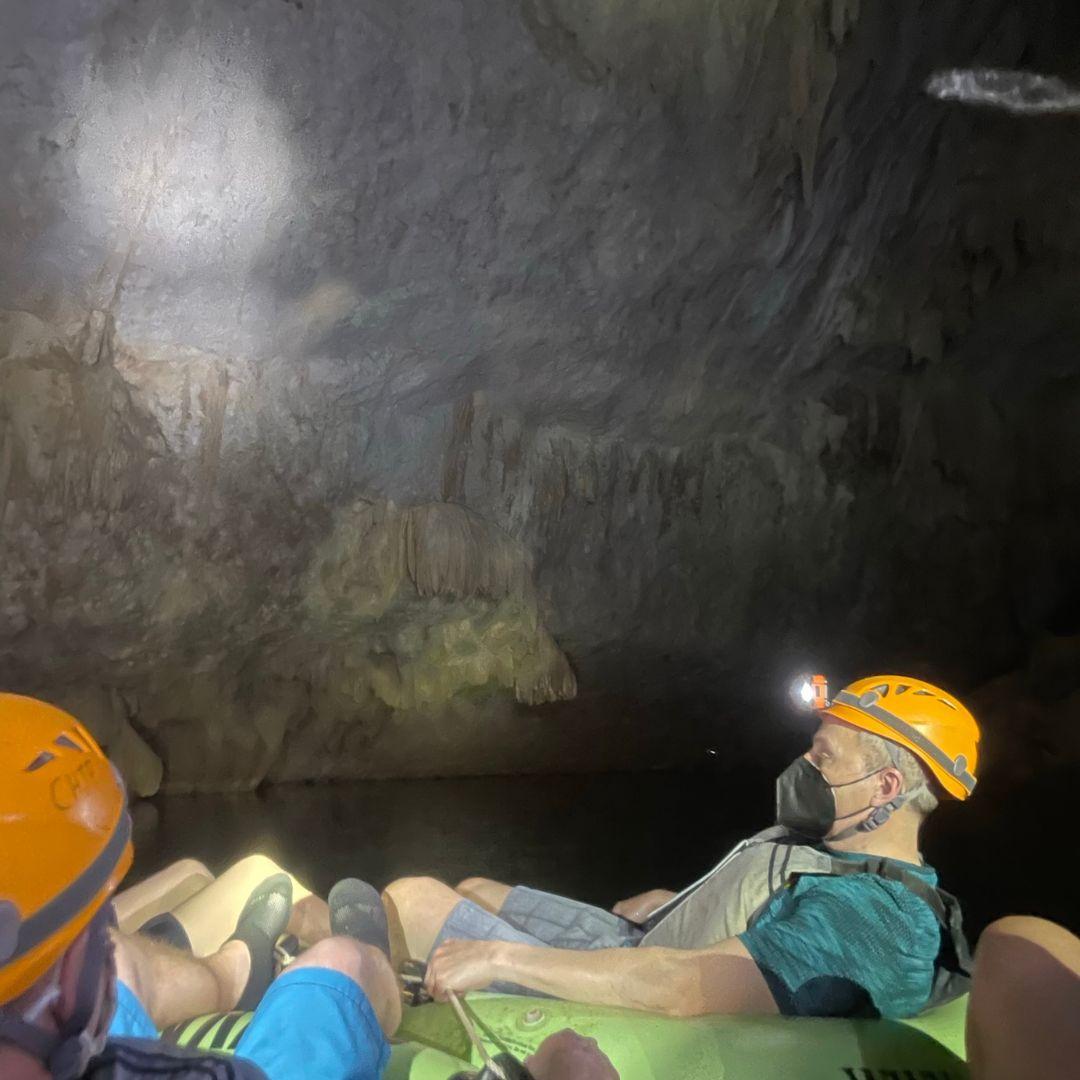 While on the Enchanted Showcase Cruise, we were given the chance to tour other staterooms on board, and we are so glad we did! Here's our thoughts on each stateroom we saw:
Standard Inside Stateroom- The inside stateroom on the Wish sleeps 3-4 people and features a queen bed, convertible sofa and pull-down bed. There's a full bathroom that includes a vanity, sink, shower and tub.
There is plenty of storage in the room, with a closet, full vanity and drawers to unpack your things in. In addition to that, there is plenty of under bed room to place suitcases when you're not using them. Overall, we were impressed with this interior room and think it would be perfect for any families looking for places to save money, or just don't love an oceanview room.
Deluxe Family Oceanview Stateroom- The Deluxe Family Oceanview Stateroom was the perfect alternative for those who are looking for a view but aren't looking for a verandah room. This stateroom was almost identical to our stateroom with the verandah, except instead of a verandah looking out over the ocean, there is a giant porthole window that takes over most of the back wall, giving you ample views of the ocean.
Like the deluxe oceanview stateroom with the verandah, this room has two washrooms, one with a toilet and one with a shower, lots of storage around the room, and can sleep 3-4 people with the queen bed, convertible sofa and pull down bed.
A room like this would be perfect for families with little sailors who may not be ready for a verandah, and still brings just as much magic to the room as a verandah does!
Concierge 1 Bedroom Suite with Verandah- This one bedroom suite, or the Tangled Suite as it's called, really packs on the amenities and some extra space for families looking for an elevated experience while on the Wish.
Located on decks 12 and 13, these concierge level suites sleep up to five, with one king bed located in a separate bedroom, one convertible sofa that turns into a double bed and one single wall pull down bed.
This suite has a living room for families to relax in, and has two full bathrooms, with the main bathroom having a rain-style shower, tub, and two sinks. The full sized closet also offers plenty of storage for everyone staying in the suite. One of our favorite parts of this suite is the private verandah that overlooks the ocean, which has plenty of seating for guests staying in the suite.
Families who stay in this concierge level suite have access to private spaces such as the concierge lounge onboard the Wish that has complimentary food and nonalcoholic beverages available throughout the day, along with other perks like access to the concierge sun deck on deck 13, that is only available for Concierge Guests.
Concierge 2-Story Royal Suite with Verandah- The Two-Story Royal Suite with Verandah really does make you feel royal! This Suite was absolutely breathtaking and could absolutely make any family's vacation magical. The suite is decorated immaculately, with inspiration from the Disney classic Sleeping Beauty. The floors, counters and bathrooms are full of pristine marble and the views from this two story suite are unforgettable.
This very large stateroom sleeps six people, and has two main bedrooms with two king beds and a large living area with a queen convertible sofa. There is a private verandah that overlooks the ocean and has its own private whirlpool with lounge chairs to use as well.There are three bathrooms in this suite, with two main bathrooms that have double sinks and rain style showers, and the guest bathroom also has a shower. One of our favorite parts? In the second story bathroom, the window glass frosts with the flip of a switch to give guests privacy while in port.
The storage in this suite is amazing, with a full-sized walk-in closet in each bedroom. Like the Concierge One Bedroom Suite, guests of this Concierge Suite also have access to the Concierge Lounge and sun deck. This suite is absolutely incredible!
Concierge Wish Tower Suite- The Wish Tower Suite truly is a wish come true, if you're lucky enough to ever stay here. This suite is located inside one of the classic funnels you see on the top deck of any Disney Cruise Line ship, and this one on the Wish is the full package.
You enter the Moana-themed suite through a private entry and immediately see the two-story family room that has floor to ceiling windows and amazing views of the ship and sea. The Wish Tower Suite sleeps eight people total, and has two main bedrooms, a library/bedroom, and a children's room complete with bunk beds.
There are four and a half bathrooms in this suite, including two main bathrooms with double sinks, stand-alone bathtubs and walk-in rain showers. The children's room has its own bathroom with a shower and the library/bedroom area has a full bathroom with double sinks and a shower. In addition to all of that, there is also a Guest bathroom at the entrance of the suite.
The pantry in the suite is always stocked with water and sodas, and there is an open-plan dining area located next to the living area. The grand spiral staircase inside the suite really adds to the grandiose aesthetic of the rooms. There is so much storage in this suite, with full sized walk in closets for both main bedrooms, and storage areas throughout the entire suite. The bathrooms are absolutely luxurious, with marble floors and walls, and upscale fixtures and bathroom appliances. You truly do feel like royalty when you're in this suite, and if we had the option, we would choose to stay here every time, (if only it wasn't completely booked through 2023!)
Dining on The Wish
Like with any cruise, dining onboard the Wish was one of our most looked-forward-to events each day. Instead of one main dining room, the Disney Wish has three different themed dining rooms that we rotated to and enjoyed each of the nights onboard.
Arendelle: A Frozen Dining Adventure was so much fun for fans of Frozen or just those familiar with the Frozen gang.
This dining experience is unlike any dining experience we've had on any other cruise, during the course of your meal the characters from Frozen pop in to sing and celebrate Anna & Kristoff's engagement. No worries if you're not seated close to the stage, all the characters make their way around the room for meet & greets, photos and while singing and dancing too!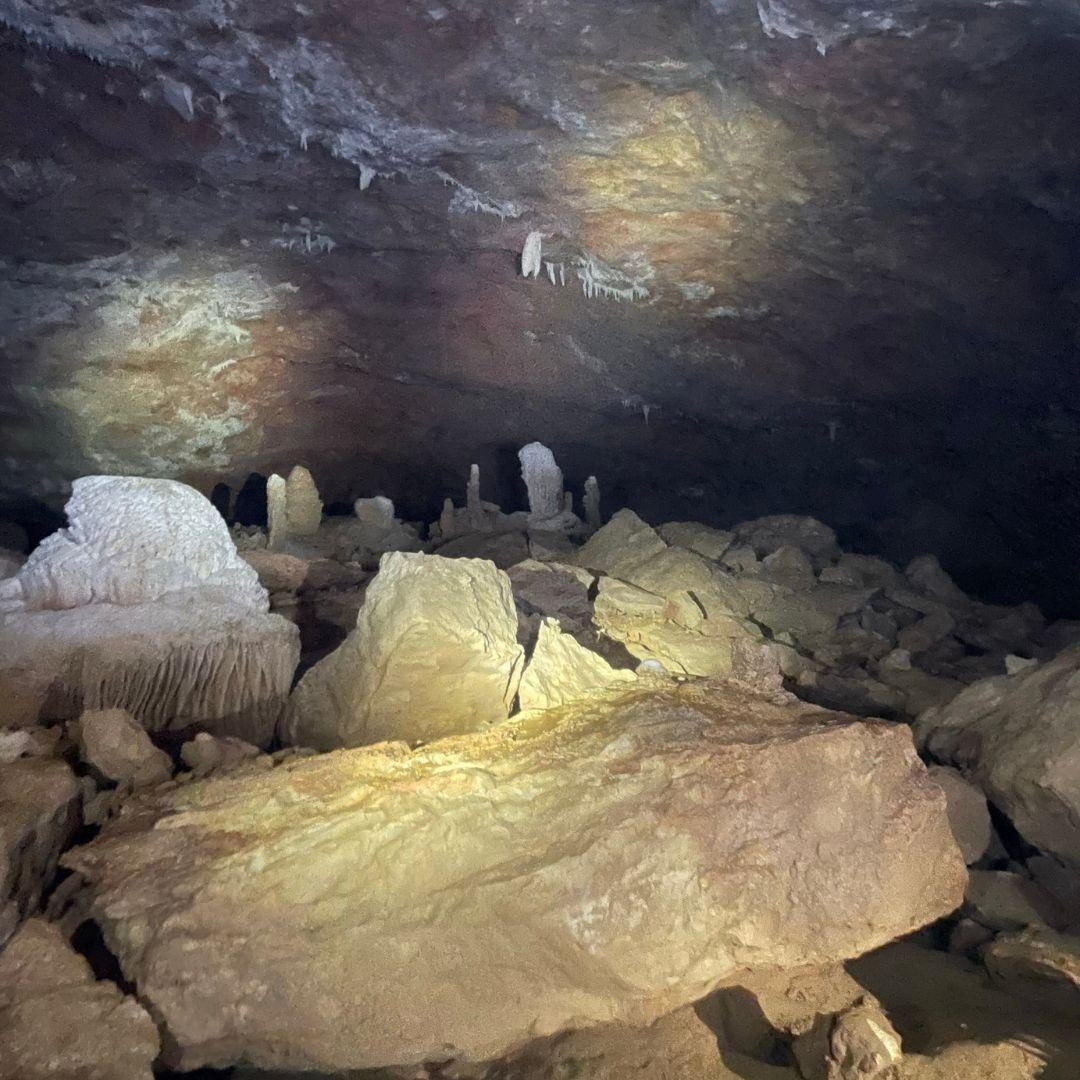 The food in Arendelle was inspired by the movie's Scandinavian roots and had menu items that reflect the Norwegian-type food that they might actually enjoy in Arendelle! To start, we ordered the Frozen Fractals drink, which was tropical tasting but looked ice cold with glitter inside the drink. For appetizers, we each tried the Jarlsberg Cheese & Rosemary Ham Tart and Elsa's Royal Baked Scallops- both were amazing and set the scene for the rest of the meal.
For our entrees, we both went with the Arendelle Kjotkakke, which was a very hard to pronounce dish but easy to enjoy! The dish was similar to a swedish meatballs dish and was delicious, the egg noodles, sauce and meatballs were all cooked to perfection. For dessert, we each tried the Norwegian Pancake Roulade and the Kvæfjordkake. The Pancake Roulade was the most artistic presentation, with the pancakes swirled into tiny pinwheels with cream inside, surrounding a small white chocolate cheesecake. The berry jam outlining the dish completed it! The Kvæfjordkake, while also hard to pronounce, was again very simple to enjoy every bite of. It was a butter cake with almond meringue and berry compote. Both of these were the perfect light and fruity dessert pair to our heavier entree.
Overall, the atmosphere in this restaurant was so light, fun and airy and made you so thrilled to be on the Wish. We dined here on our first night and it was the perfect way to kick off the cruise. We loved singing, meeting the characters and even the wait staff were dressed the part. You will have fun in this restaurant if you or someone you're traveling with is a Frozen fanatic, and if you're not, this dining experience might make you one!
1923 was named for the year the Walt Disney Company was founded, and reflects the origins of the company and where it was started, in California. One side of the restaurant is named after Walt Disney, and the other for Roy Disney, Walt's older brother and co-founder of the Walt Disney Company, (trust us- either side of the restaurant is a delight!)
The cuisine in the restaurant takes inspiration from California cuisine and everything we had truly was delicious. We enjoyed a fennel salad as an appetizer, then moved onto the delicious 1923 peppered filet mignon- one of the signature items on the menu. This dish really was so good and left us so satisfied.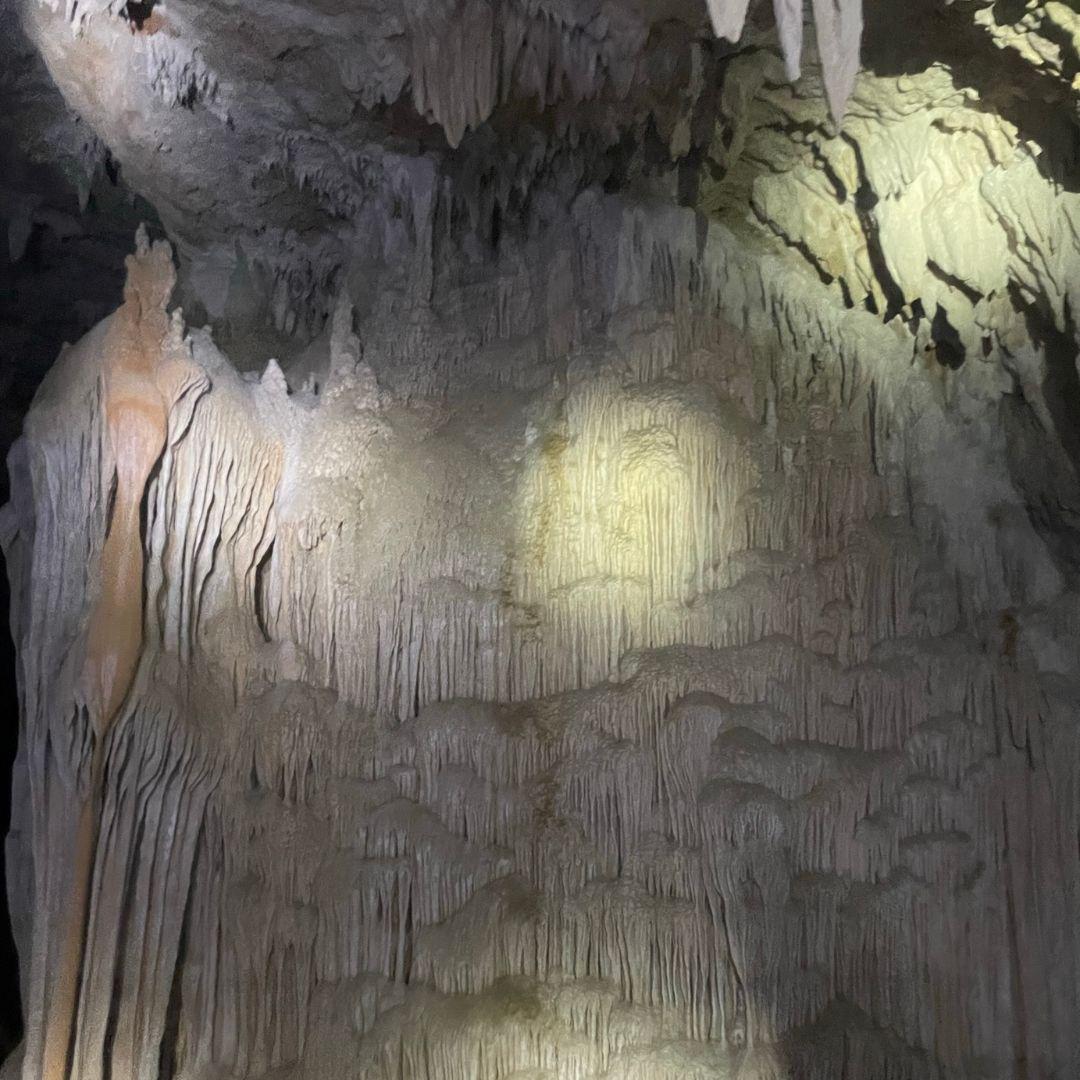 While our appetizer and entree were amazing, dessert here was really the star of the show. We shared the churros caliente with dulce de leche dipping sauce which were the perfect sweet treat, and then we had the Atwater Fuji Apple Cheesecake and Hollywood Hills Hot Chocolate Fudge Sundae. The cheesecake was presented in such a unique way and truly was one of the most delicious desserts we've ever had. You can never go wrong with an ice cream sundae, but you can certainly go right by choosing to indulge in the hot fudge sundae at 1923.
We loved this restaurant and enjoyed our meals so much! While this restaurant is the only rotational dining onboard with no in-dining show, we were wowed by the decor inside the restaurant and exceptional food, this is one restaurant you don't want to miss when sailing onboard the Wish.
We can't forget to note that we dined here on our second night at sea, which was the famous Pirate Night on the Wish. Disney Cruise Line's famous Pirate Night encourages guests to dress in their best Pirate outfits (this is not mandatory!) and engage in pirate themed activities throughout the night. The night went out with a bang during a Pirate Party on the top deck, but we'll get into that more a little later.
Worlds of Marvel was where we spent our last night on the Enchanted Showcase Cruise, and as huge Marvel fans, this rotational dining restaurant was the one we were probably most excited for. Like Arendelle, Marvel is an interactive character dining experience, where guests help Ant Man and the Wasp when something goes wrong with their subatomic technology during their presentation. During the show, we helped get Ant Man out of some sticky situations, and there were even special appearances by other Marvel character favorites.
The food in Worlds of Marvel was inspired by the different types of food from around the Marvel Universe, including Wakanda, Sokovia and of course New York City. Since it was our last night on board the Wish, we went all out with dinner and didn't hold back on trying new things. For appetizers, we both tried the steamed bao buns and the crispy breaded fried shrimp. These were delicious and the perfect appetizer to start the meal off on the right foot.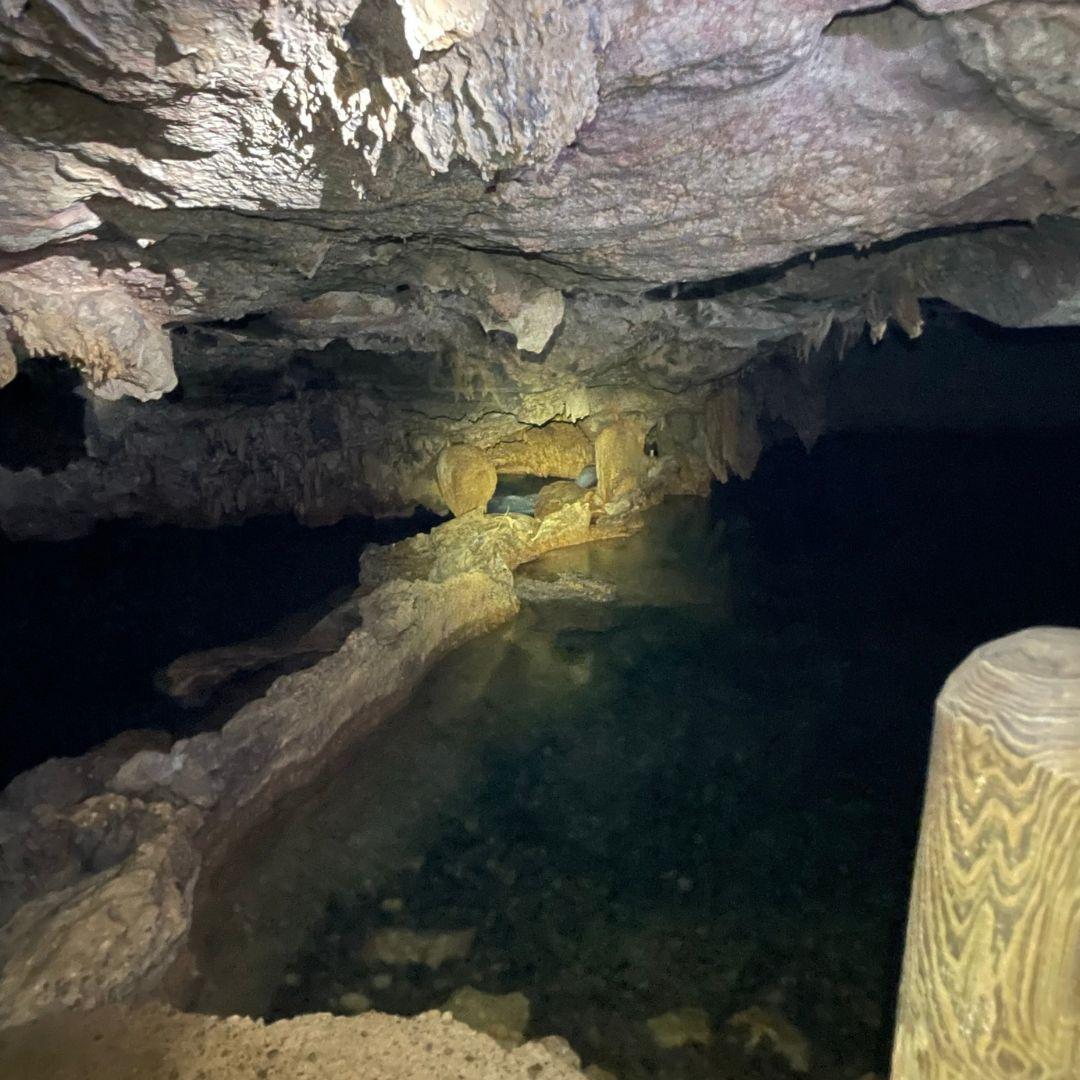 For our entrees, we had a hard time choosing just one. Haley ordered the ricotta gnocchi and Laura ordered both the Golden Mystic Pasta with scallops and the Delmonico Rib Eye Steak with black truffle butter. The ricotta gnocchi was the perfect vegetarian dish and was cheesy, creamy and delicious. Laura loved her surf & turf dinner and couldn't get enough of the rib eye steak with truffle butter.
By the time dessert came around we truly barely had any room left, but there is always room for dessert on vacation. Haley ordered the Quantum Key Lime Pie and Laura enjoyed the Pym Doughnut Sundae. Both of these desserts were rich, sweet and the perfect way to end the meal.
The Worlds of Marvel restaurant will keep Marvel fans glued to the screen the entire time, and will entertain everyone in between. We loved the balance between show and meal, and had such a good time meeting Ant Man and the Wasp after we helped save the day.
Casual Dining On The Wish
While we loved every second of our dinner experiences on the Wish, there are plenty of casual options that we took advantage of and loved just as much.
The Marceline Market is where we enjoyed breakfast each morning, and is a buffet-style food hall. There is any type of breakfast food you could imagine here- omelet stations, fruit & yogurt bars, and of course Mickey waffles stations.
In addition to breakfast, you can also grab lunch here as well and can find soups and salads, comfort foods, seafood and international specialties.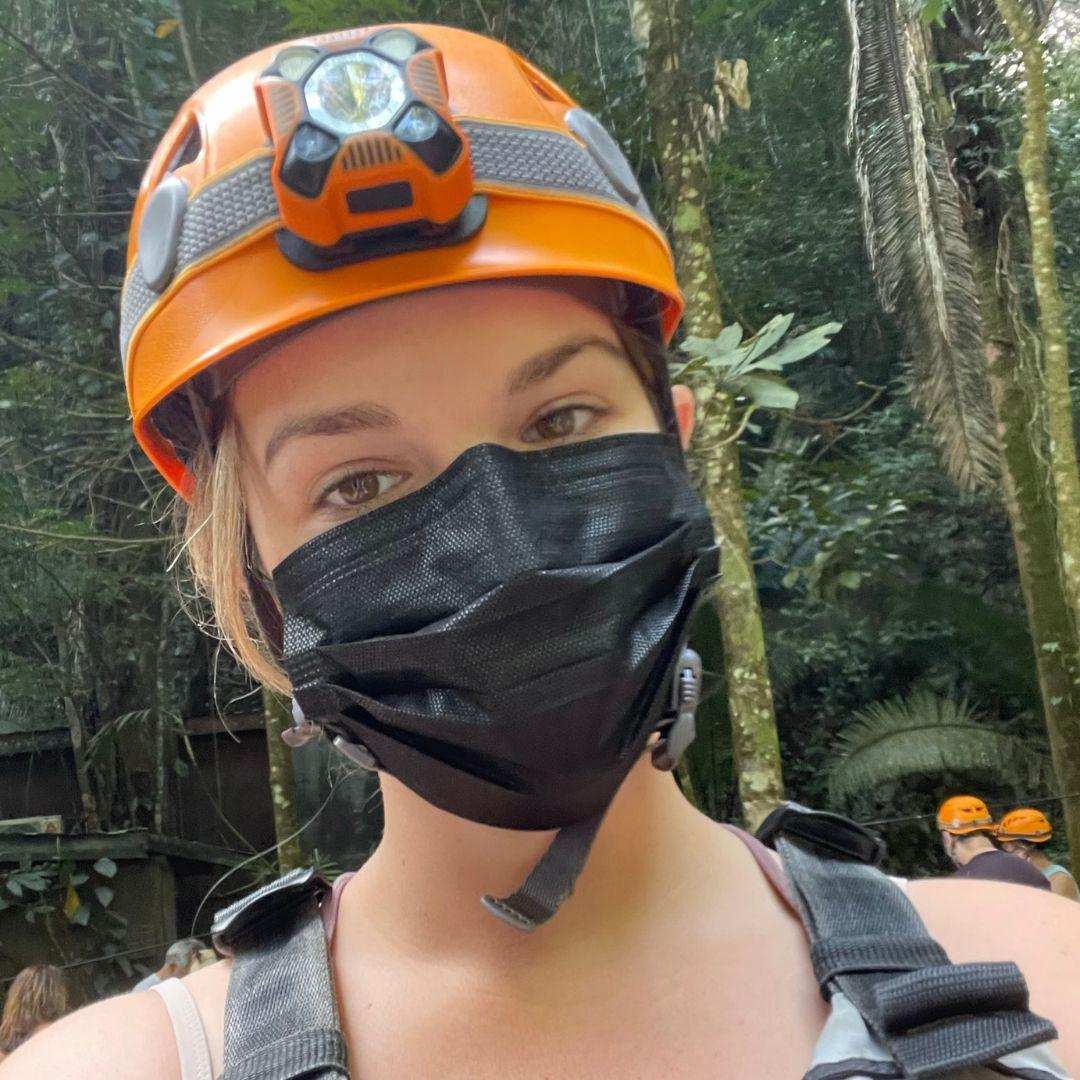 Mickey & Friends Festival of Foods is located on one of the pool decks on the Wish. It's the perfect place to grab your poolside lunch, midday snack or of course those famous soft ice cream cones that everyone loves on cruises. The type of food here ranges from southern barbecue to tacos and rice bowls to pizza and it was all delicious.
For those looking for more signature sweet treats on board the Wish, Inside Out: Joyful Sweets is the place to go. This specialty sweet shop has a ton of different flavors of homemade gelato and ice cream, as well as pastries like cupcakes, macarons and cookies. While this shop is extra, it is definitely worth the added expense to make your cruise a little sweeter.
Speaking of specialty, we'd be remiss if we didn't mention the two specialty restaurants on the Wish not included in the rotational dining schedule. Enchante might be one of the most beautiful (and delicate) restaurants we've ever seen on a cruise ship and is an adults-only dining option with the menu crafted by 3 Michelin-starred chef Arnaud Lallement.
This restaurant is decorated immaculately, and is the fine dining option on the ship. For dinner, the menu includes new creations and signature dishes like Maine lobster, beef poivrade artichoke and caviar smoked halibut. The restaurant also offers a champagne brunch that includes five courses, a glass of champagne and a decadent dessert at the end. There is also a Just Desserts course that serves a delectable 5-course dessert menu with coffee and a conversation with Enchanté's Executive Chef and Pastry Chef, who will discuss each sweet treat you enjoy. Foodies- this restaurant is the one you should try!
Palo Steakhouse is a specialty restaurant that Disney cruisers know and love from Disney's other ships. The menu offers show-stopping wine selections to pair with your meal and amazing dessert options that are pure decadence. The italian dishes and excellent cut steaks make Palo the other fine dining option on board that will make anyone's Disney cruise that much more special.
Bars & Lounges on The Wish
You might think that because you're on a Disney ship that means that there are only kids activities, but you would be wrong! There is plenty of adult only fun on board the Wish, starting with the different bars and lounges onboard.
One of our favorites is the Bayou, the Princess and The Frog themed bar located in the middle of the ship. This bar and lounge is decorated immaculately to make you feel like you're in the middle of New Orleans. This was the perfect place to enjoy an after-dinner cocktail before we settled in for an evening of shows, and we even enjoyed live music there as well.
Right next to the Bayou is the Star Wars Hyperspace Lounge. This reservations-only bar and lounge really takes you to a new galaxy and is such a fun place whether you're into Star Wars or not! You really feel immersed in the Star Wars universe with the galaxy floating by you out the window, and have appropriately themed drinks to go with the atmosphere. This lounge is a must-visit for adults onboard!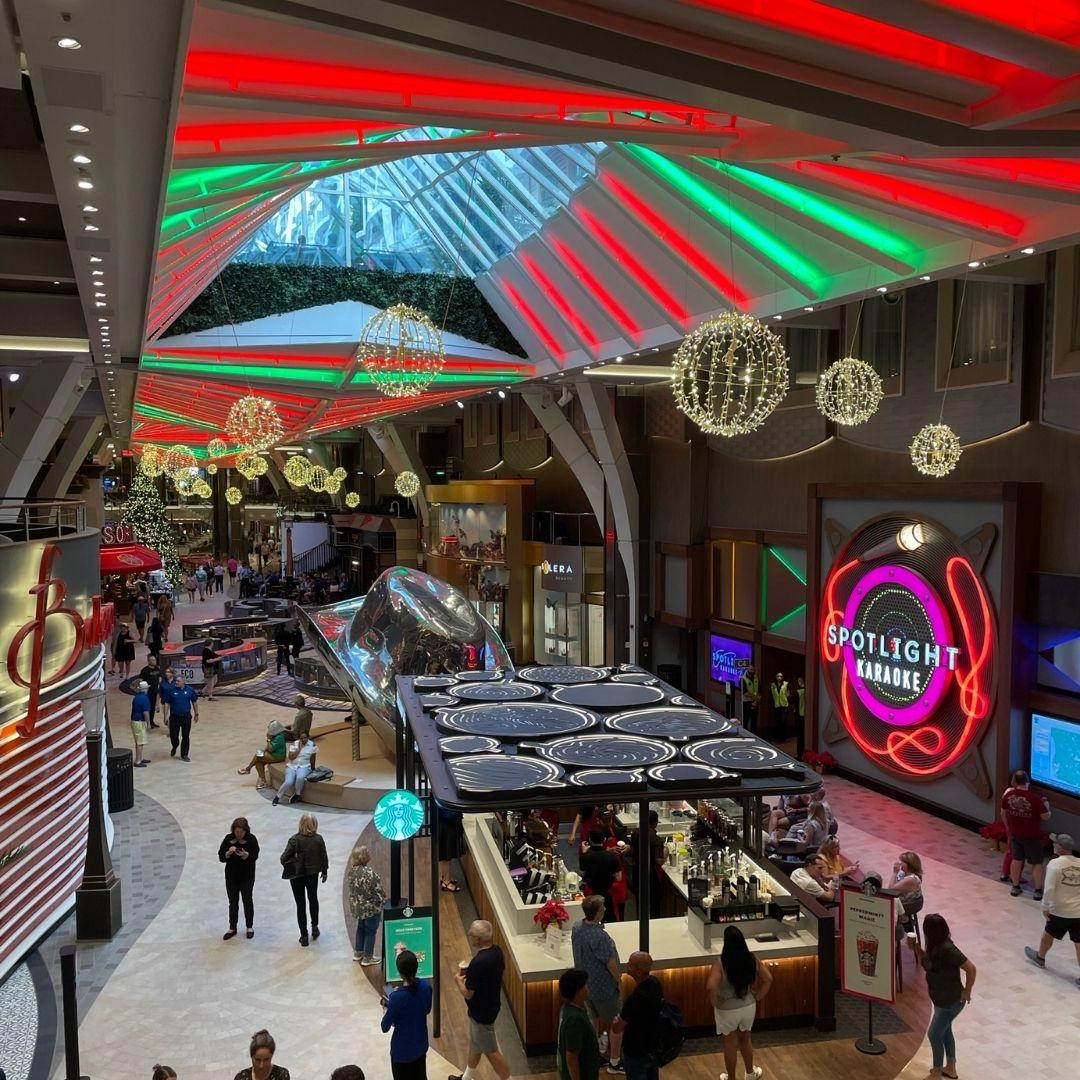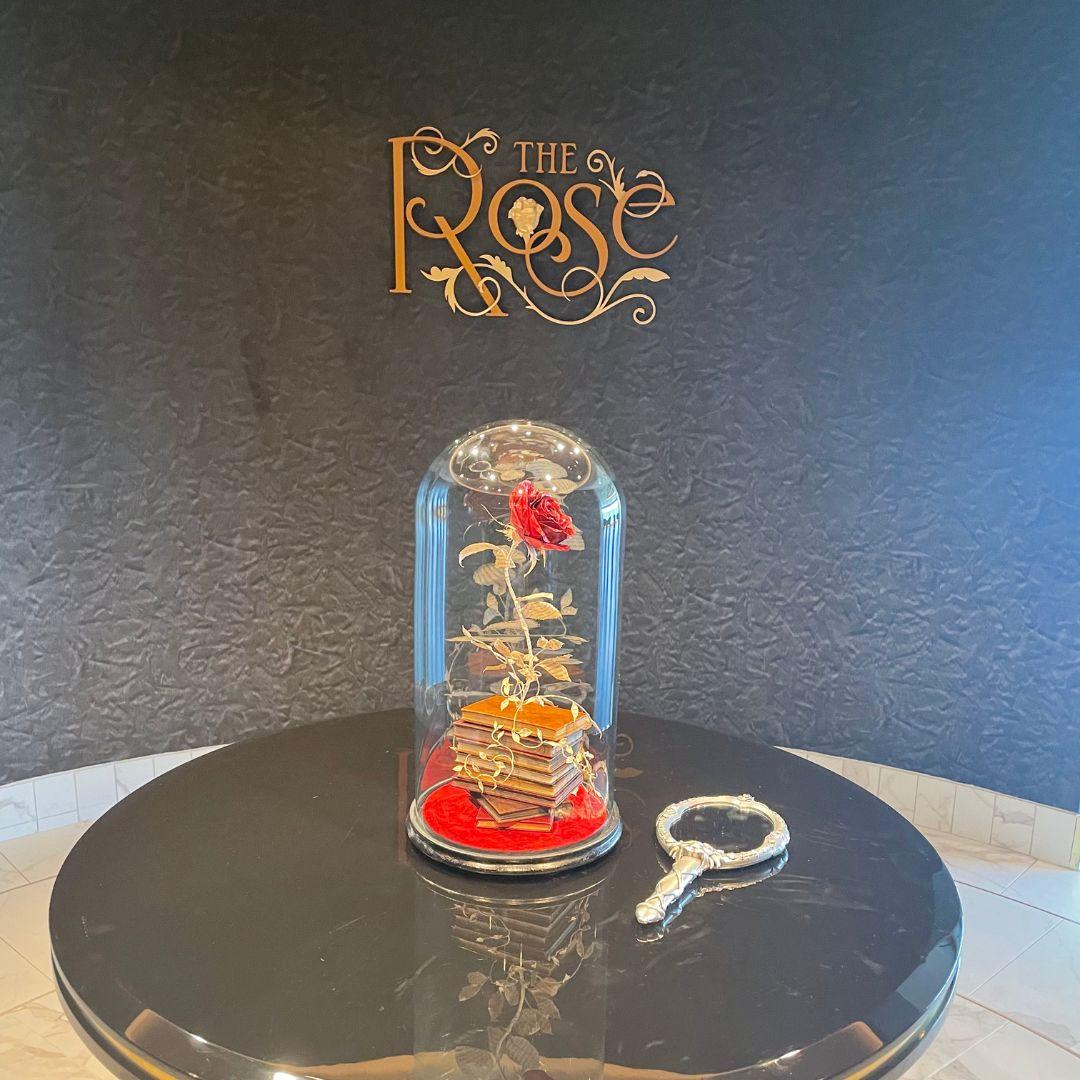 The Bayou and the Hyperspace Lounge are both well worth a visit on board the Wish, but there are plenty of other bars and lounges to check out like Keg & Compass, The Rose, Nightingales and Cove Cafe- the adults only lounge where you can try out different tastings and specialty beverages.
Entertainment on The Wish
It's hard to imagine that a Disney Cruise Ship does not have the best of the best activities on board for kids sailing with their families, and the Wish does not disappoint! Let's start with the Oceaneer Club. The Oceaneer Club is designed for kids ages 3-12 onboard the Wish and is a space where kids can play and roam free under the supervision of Disney staff while their parents spend time elsewhere on the ship.
There are so many different cool parts to the Oceaneer Club, and it starts by sliding into the club from floor 3 to floor 2 where the entrance is. The slide is inspired by the rabbit hole in Alice in Wonderland, and after checking in, kids can slide down to the club to Wonderland and start having fun.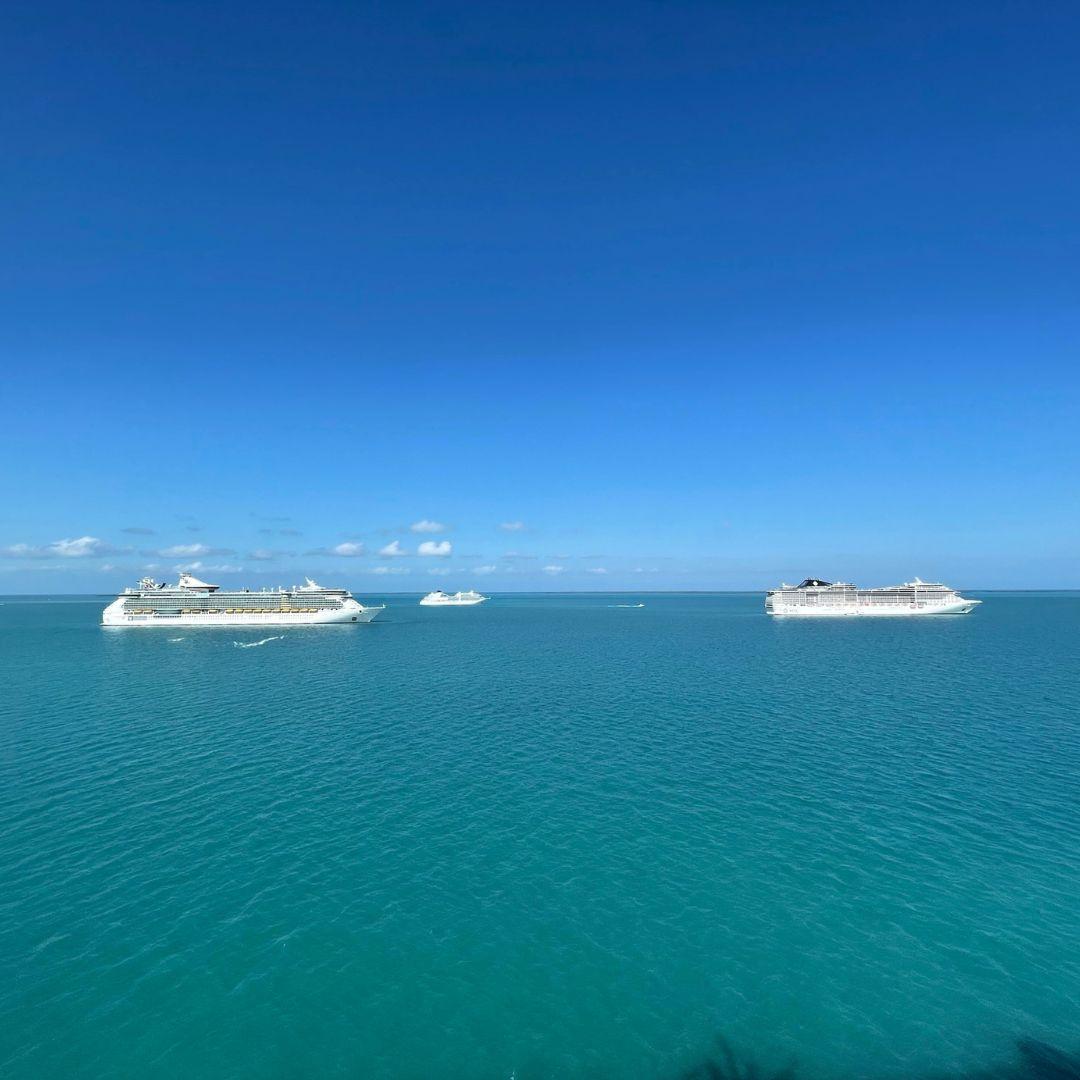 The first thing you find when you take a left as you enter the Oceaneer Club is Star Wars: Cargo Bay. In this Star Wars-themed space, kids spend their time here as the creature handlers, dealing with porgs and Loth-cats. In the Star Wars: Creature Challenge experience, Oceaneers are put to the test in managing these creatures. For the Star Wars, animal or fun loving kids in your life, they'd love this section!
Exploring further into the Oceaneer Club, we find Fairytale Hall. This space has areas for kids to complete arts and crafts projects in Rapunzel's art studio, play on interactive screens in Elsa and Anna's Sommerhus, or spend time in Belle's Library listening to tales brought to life on the magic screen.
If getting creative is your Oceaneer's thing, the Imagineering Lab here will keep them entertained for days! There is a ride studio inside the Imagineering Lab where kids can design their own roller coaster and then take a virtual ride on it (we're jealous adults can't partake!) There is also a large common space with plenty of seating for friends to hang out and play games.
Across the hall from that is Minnie & Mickey's Captain's Deck when the kiddos need to burn off some steam. There are some small indoor playsets in this room for kids to play on and even an interactive screen for kids to "steer" the ship.
Overall, the Oceaneer Club is the ideal place for kids to spend a few hours every day on board the Disney Wish and offers plenty of fun activities that your kids will remember well after they disembark the Wish!
Don't think the fun for kids stops at the Oceaneer Club- there's plenty more! Starting with Marvel Super Hero Academy. This is located right next to the Oceaneer Club, and lets kids choose a superhero suit and watch a mannequin transform before them into their Avenger of choice. Kids can suit up themselves and train to be an Avenger in Avengers: Mission Training!
The Hero Zone is located on Deck 12 of the Wish and is a futuristic-themed sports concourse for families to play different games while enjoying the climate-controlled space. Guests can play ping pong, basketball, air hockey, foosball and other games during free play. The space also hosts the Incredi-Games, an Incredibles-themed blow-up obstacle course for families to get physical in. Guests can compete one-on-one against a friend or family member, trying to finish the course the fastest.
There is a teen space on board the Wish called Vibe, where the teenagers on board can relax with their friends, play video games, games or attend one of the teens-only events hosted here. There really is something for all age groups on the Wish!
When your kids are ready to soak up some sun and have some fun in the water, the Wish has plenty of options! For the littles, the Toy Story Splash Zone is the perfect, most adorable way for toddlers to get wet, cool off and have fun. This is located right next to Slide-A-Saurus Rex, where kids and adults alike can get some waterslide action in.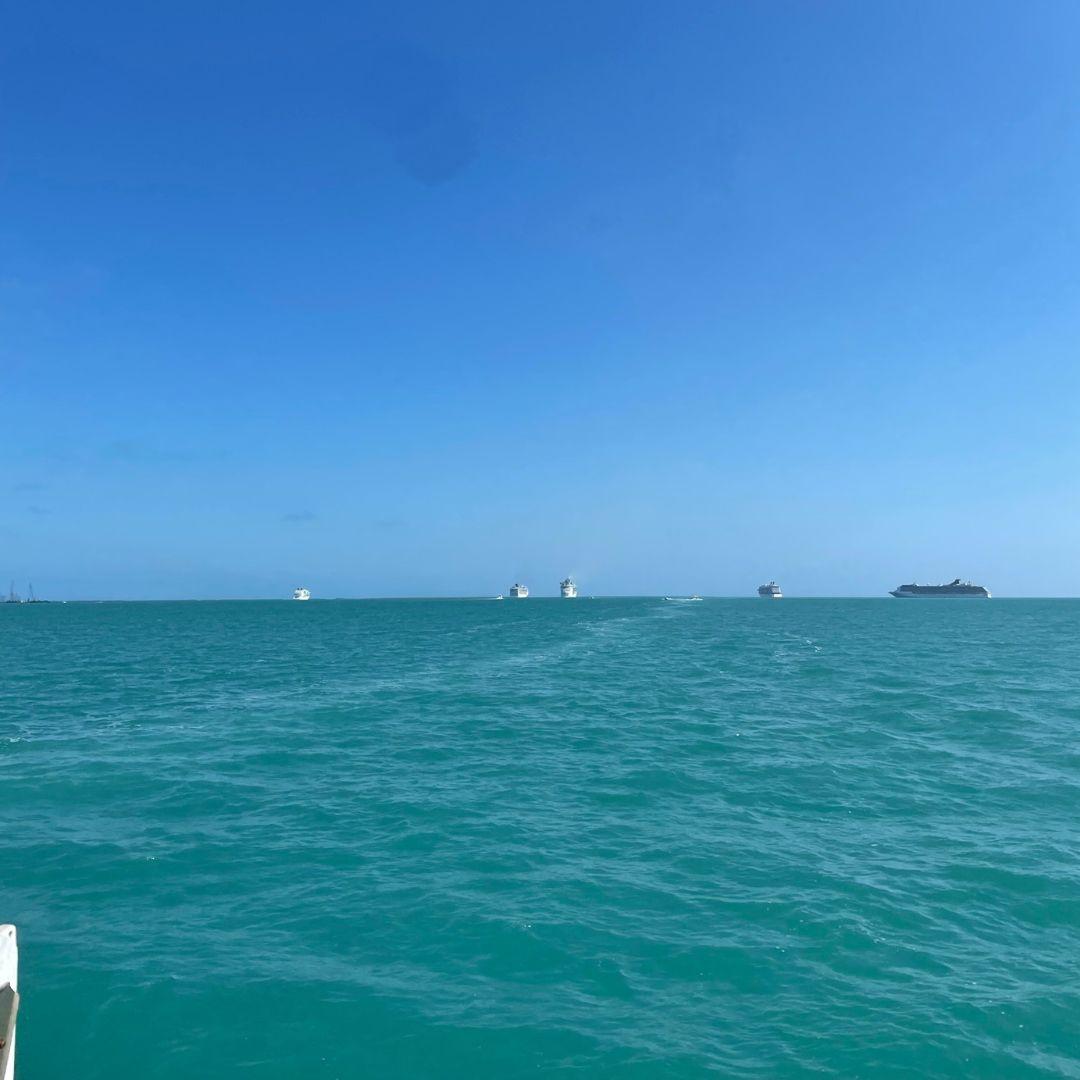 The most tempting waterslide on board has got to be the AquaMouse- Disney's first ever attraction at sea. This can be a popular one, so be prepared to wait a little bit at peak pool times, but it's worth it! This slide takes you up a slow-moving conveyor belt telling the story of Mickey and Minnie and the Abominable Snowman, giving riders fun aquatic surprises along the way. When you reach the end of the belt, you blast off down a tube and before you know it, you're gliding through a crystal clear tube 12 decks above the sea before ending your ride. It's such a fun way to cool off, and will scratch the itch to get on a ride, because this is Disney after all. Keep in mind, riders need to be 42" to ride this attraction.
In addition to all the slides, there are also five smaller pools on the Wish that are short in depth to keep it fun and cool everyone off. In addition to the five on the main pool decks, there is an adults-only pool located in the Quiet Cove, and a Concierge Pool for Concierge guests as well.
With daytime entertainment covered, we can't forget about nighttime entertainment too! One of our favorite parts of cruising is the shows that you can go see in the theater after dinner, and the Wish does not disappoint. Our first night on board, we were lucky enough to catch Disney Seas the Adventure, where our favorite characters sing songs and help Goofy navigate the high seas while he's filling in for Captain Minnie. This show had some of our favorite songs and featured characters like Queen Elsa, Crush the Turtle, Moana, Peter Pan, Merida and Tinkerbell, among many more favorites!
Like we mentioned before, our second night at sea was Pirate Night, and this night concluded with the most exciting Pirate's Rockin Parlay Party we've ever seen! Pirates took to the stage and sang some rock classics that kids can jam out to and parents love, Captain Jack Sparrow even hopped on our ship. The party concluded in the most epic way with fireworks at sea- something that we'll never forget. It was so much fun and most definitely a highlight of cruising on the Wish.
On our final evening on board the Wish, we were treated to Disney's own Broadway style of The Little Mermaid. The cast and crew were nothing short of extraordinary, and we felt like kids singing along to all of our favorite songs from this classic movie. The theater had special effects to really bring you under the sea and we couldn't have had a better time. When you're on the Wish, make sure you don't miss this spectacular show!
When we weren't enjoying the shows on board, we had plenty of other options for how to spend our time. The Wish has two movie theaters that are always playing Disney movies that will captivate just about any audience. While we were on board, Thor: Love and Thunder was playing, which had just been released in theaters, so you never know what surprises you'll get when traveling with Disney.
We can't forget about the game shows hosted by Disney Cruise Line staff during the day and early evening. We attended one show that tested how well kids knew their parents and parents knew their kids, and it was hilarious. Such a fun thing to participate in if you want, or just spectate!
Castaway Cay
If you thought there was a lot to do on a Disney Ship while at sea, just wait until your ship docks at Disney's private island, Castaway Cay. We loved spending a day here and truly could have spent a week here unwinding and enjoying the different activities offered if possible.
The beaches at Castaway Cay are truly divine. There are a few beaches to enjoy around the island, including Castaway Family Beach which is full of lounge chairs, umbrellas, live music and island vibes for the whole family to take in. This beach is close to pavilions with supervised games for the kids, and not far from Cookies BBQ where you eat lunch.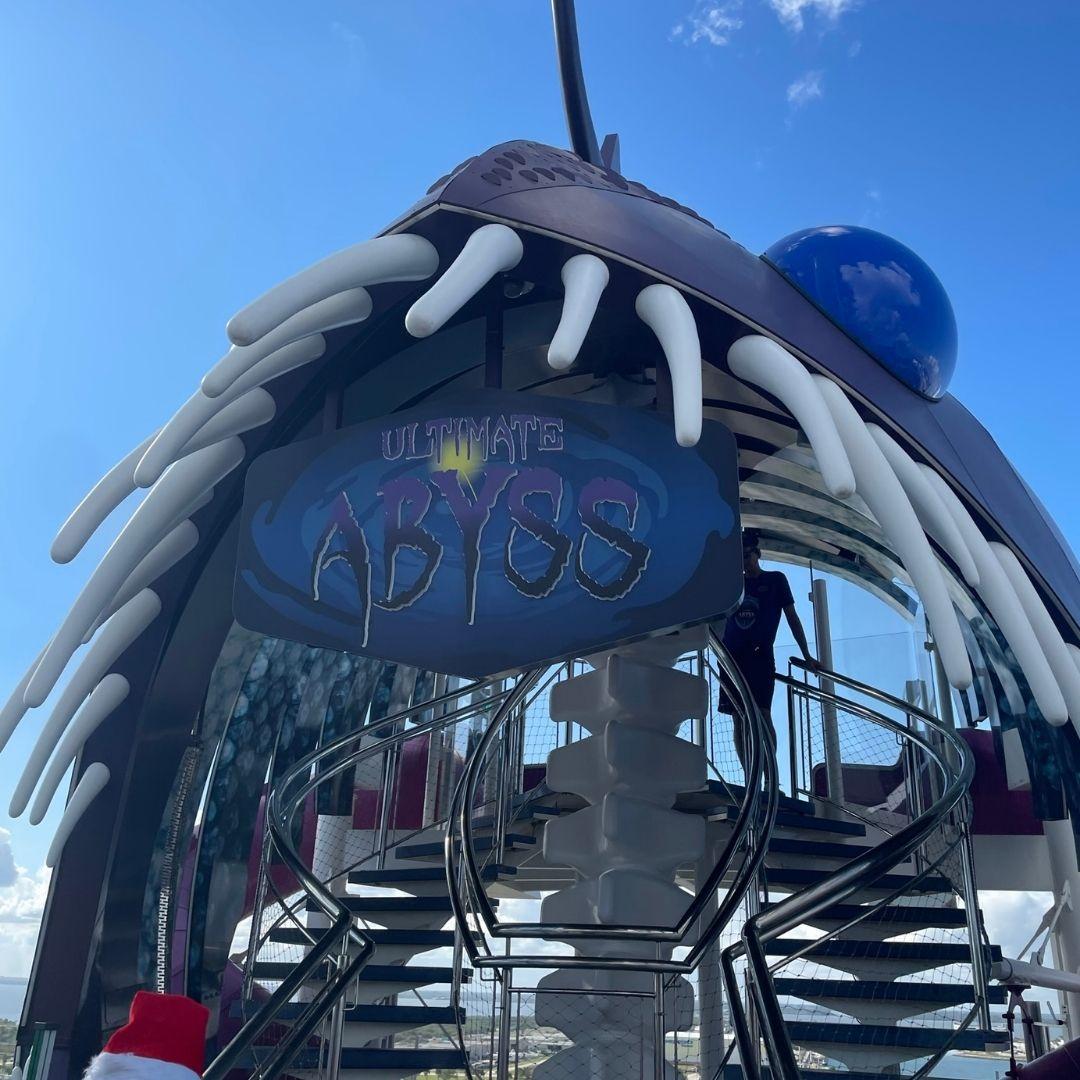 When you think of Disney, you of course think about kids, but even the island has retreats where you can relax in an adults-only atmosphere. Serenity Bay is the adults-only beach on the island where you have to be 18 years old to enjoy the calm atmosphere. The water is crystal clear, the sand is soft and white, and the quiet island music playing in the background makes this feel like actual heaven.
If your family is more active, there are plenty of things to do during your time at Castaway Cay. There is a snorkeling lagoon where you can partake in snorkeling different trails and trying to spot the hidden Mickeys under water. This activity is for all ages and such a fun thing to do! There is also the Pelican Plunge which is a floating water-play area and platform.
While here, your family can rent paddle boards, water trikes and kayaks for all the marine adventurers. If water sports aren't your thing, maybe shopping at one of the many island shops is? And if nothing else, maybe a delightfully chilly beverage from Wheezies Freezies is up your alley?
One of our favorite parts of the island? At any given time you might just find some of your favorite characters roaming around looking to say hi to you, so be on the lookout! There's so much to do at Castaway Cay, a well deserved afternoon nap was called for after our day here.
Our time on the new Disney Wish really was the most fun, magical and exciting few days! One of the best parts of a Disney Cruise is that you can make it as "Disney" as you want. Want to dress like Minnie Mouse for dinner? Go for it! Want an elevated and sophisticated world class fine dining experience? You can have that! Want to do both all on the same trip? You bet that all of this can happen on the Wish. Whether you're a Disney fanatic or just a fan of cruising, we guarantee that you will love your cruise on the Disney Wish and we cannot wait to help you and your family book the trip of your dreams!
To learn more about our current Disney Cruise Line specials, visit our Disney Cruise Line Page.