Judy's Journeys
Judy's Journeys
Yankee Trails is excited to offer "Judy's Journeys": exciting one-of-a-kind tour packages guided by Judy!
Judy Kindlon has been a Tour Guide and Coordinator with Yankee Trails for over 20 years. She and her husband loved to travel, and those experiences have made her our "Go To Gal" for so many of our tours. With her warm and welcoming smile, Judy never fails to deliver a tour that is a trip to remember.
Bus Trips
Clearwater Beach, FL
February 24 - March 11, 2018
Clearwater Beach, FL dazzles with impeccable beaches and inviting waters. Caladesi Island, off the north end of the beach, was recognized as the nation's best. Besides the beaches, there is Clearwater Beach's inviting, small-town atmosphere. Clearwater Beach attractions, fine restaurants, family-friendly lodgings, and exciting beach activities will have the whole crew smiling.
From $2199 pp/double | Book Now »
Myrtle Beach, SC
March 31 - April 17, 2018
The Myrtle Beach area has grown to be one of America's leading family vacation spots as it offers a variety of amusements to satisfy the young and the young at heart. It not only offers warm sunshine and a chance to relax, but it also offers dazzling world class entertainment as it is known as the "Entertainment Capital of the East Coast".
From $1229 pp/double | Book Now »
Charleston, Savannah, & Jekyll Island
April 14 - 21, 2018
Charleston's homes, historic shrines, old churches, lovely gardens, winding streets, and intricate iron lace gateways exude charm and dignity. Savannah is where you'll find amazing architecture, spooky cemeteries and rich history—along with global sophistication, funky nightlife and fabulous food. Jekyll Island, GA, embodies the natural beauty and relaxed attitude of the region.
From $1569 pp/double | Book Now »
Southern Style, Sass & Our Historic Past
May 9 - 20, 2018
We'll fly from Boston to Dallas, Texas where our Yankee Trails motorcoach will be waiting. We will tour Dallas, Waco, and Houston. Leaving Houston, we continue on to visit in New Orleans. We begin our journey north, stopping to visit Atlanta, traveling through the Shenandoah Valley to Charlottesville and continuing on to our final stop at Baltimore and Ft. McHenry!
From $3099 pp/double | Book Now »
American Country: Branson & Nashville
May 26 - June 5, 2018
We are off to visit the finest that American Country Music has to offer and so much more! We will visit Branson, Missouri, Nashville, Tennessee, the Shenandoah Valley where we make an overnight stop in Waynesboro before arriving home with the sights and sounds of our American Country leaving beautiful memories with us forever. Please join us for this memorable tour and experience!
From $2999 pp/double | Book Now »
Gettysburg Civil War Battle Reenactment
July 5-7, 2018
Welcome to Gettysburg, Pennsylvania, where the turning point of the Civil War occurred 155 years ago, from July 1 - 3, 1863. Travel to the Gettysburg National Military Park, with over 1,000 monuments and cannon along over 40 miles of scenic roads, a battlefield shrine to the Union and Confederate soldiers who fought here.
From $599 pp/double | More to come
Our National Parks & Rte. 66
August 21 - September 6, 2018
One of America's greatest treasures is our National Parks and nd we are off to visit some of the best: Arches, Bryce Canyon, Zion and the magnificent Grand Canyon before we begin our nostalgic road trip up Iconic Route 66 from Flagstaff, Arizona to Chicago, Illinois.
From $4999 pp/double | More Info »
Albuquerque Balloon Fiesta
October 6 - 14, 2018
For more than three decades, the first week in October brings the smell of roasting chiles and the beautiful, magical moving picture show of hot air balloons sailing silently through the crisp fall air. Guests from all over the world come to Albuquerque to celebrate ballooning.There's something for everyone to enjoy.
From $3849 pp/double | Book Now »
Air Trips
Enchanted Emerald Isle
June 12-24, 2018
Join us as we explore this welcoming Island as well as becoming a part of it during our 13 days Emerald Island Discovery. We will journey through all the highlights of Ireland including the cliffs of moher, Ring of Kerry, Shearing a sheep, visit where Guinness was born, and kissing the Blarney Stone if you dare! Along with so much more.
From $3359pp/double | More Info »
The Wonders of Italy
September 19 - 28, 2018
Prepare to fall in love with Italy's most vibrant and illustrious cities – Rome, Florence and Venice – along with Cinque Terre on this elegant private tour through the birthplace of the Renaissance, marvel at endless art and architectural gems in Rome, Venice and Florence, savor fine Chianti wines in sundrenched Tuscan vineyards and wander through Italy's most beautiful medieval towns.
From $4599pp/double | More Info »
Cruises
Oceania - 10 Night Sandy Shores Cuba
January 3 - 13, 2019
Cruise on the Oceania Sirena to Cuba on this tour escorted by Judy. Ports of Call include: Havana Cuba, Cienfuegos Cuba, Santiago de Cuba, Punta Cana Dominican Republic & Nassau Bahamas.
Package Includes: All taxes, fees, airfare and transport to/from JFK Airport, and hotel pre-stay one night in Miami on January 2nd.
Balcony from $4899pp | Learn More »
Oceania - 10 Night Greece & Italian Gems
May 29, 2019
Cruise on the Oceania Sirena to Greece on this tour guided by Judy. Ports of Call include: Dubrovnik, Mykonos, Santorini, Gythion, Corfu, Taormina (Sicily), Sorrento/Apri
Package Includes: All taxes, fees, airfare and transport to/from NYC Airport
Interior from $4299pp | Learn More »
Viking River Cruise - Rhine Getaway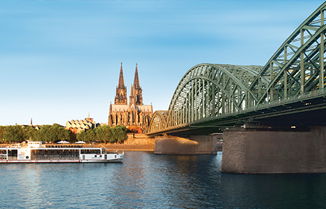 September 30 - October 10, 2019
Ports of Call include: Kinderdijk, The Netherlands; Cologne, Koblenz, Heidelberg, Germany; Strasburg, France' Breisach, Germany; Basel, Switzerland
Package Includes: All taxes, fees, round-trip airfare, and 2 night hotel stay in Amsterdam
Veranda from $4999pp | Learn More »
---
All Judy's Journey packages subject to availability. All itineraries subject to change. Yankee Trails reserves the right to substitute Judy with alternate Program Director if necessary, without notice.